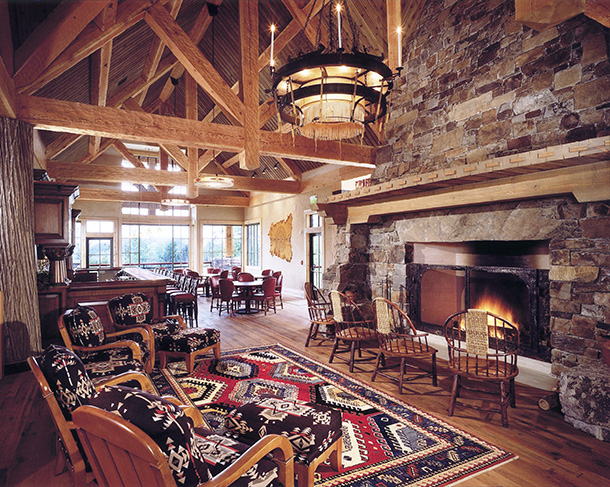 Iron Horse :: Whitefish, Montana
The Clubhouse for this exclusive golf resort occupies 27,000 square feet on two levels. It is reminiscent of the great mountain lodges of the West with its oversized beams, cedar tree columns with bark intact, massive stone fireplaces, hand forged iron gates, and spectacular chandeliers. Generously scaled leather, upholstered seating, custom wool carpets and linen drapery in traditional vivid colors and patterns contribute to the atmosphere of comfort and luxury. Elements of the history and culture of Montana enhance the sense of a well-loved institution. Vibrant American Indian rugs from the early 20th century, baskets both new and old, photographs of the early days of railroading, 19th century survey lithographs, hand painted elk-hide and other paintings all contribute to this rich and varied setting.
The clubhouse at Iron Horse won Soljaga Design Group an honor award in the IIDA/AIA/ASID Ninth Annual Interior Design competition.